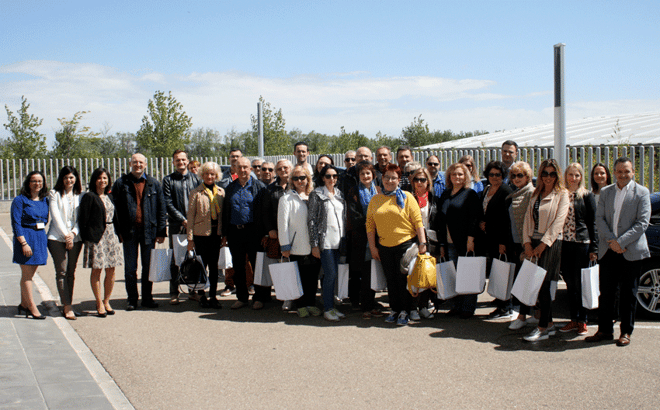 A group of members from the Ministry of Agriculture, The State Animal Breeding Supervision Service, State Food and Veterinary Service, State Laboratories as "Pieno Tyrimai" and dairy companies spent few days in Spain visiting dairy companies and dairy laboratories together with Zeulab.
Manufacturing of dairy products is traditionally the most important subsector of the Lithuanian food industry. In the same way, Spanish dairy sector has become a key strategic pillar, with a constant increase in production figures and dairy products export. The five main dairy processors in Lithuania are: JSC Rokiškio Sūris, JSC Pieno Žvaigzdės, JSC Žemaitijos Pienas, JSC Vilkyškių Pieninė and Marijampolės Pieno Konservai. These enterprises process 93% of all milk purchased in Lithuania.
Pieno Tyrimai is the counterpart to a Spanish dairy interprofesional laboratory. It performs all the quality testing of purchased cow milk for payment purposes (somatic cells, fat content, antibiotics,…).
In this context and during the visit, all these representatives of the Lithuanian Dairy Board could find out first-hand the advances and developments of Zeulab, the new products that facilitate the control of antibiotics in milk (such as e-reader) and participating in specific product demonstrations and discussions. We hope that this is just a beginning of a fruitful relationship that will allow us to continue collaborating in the future.
We would like to thank the entire Lithuanian Dairy Board for the enthusiastic collaboration throughout the day they were here.

We are looking forward to seeing you again!